OMNIS™/OPEN-PBS
Born from the exclusive joint-venture between Cadence and coupledNumerics, Omnis™/Open-PBS widens the range of applications with fast and robust convergence for low-speed and incompressible flows.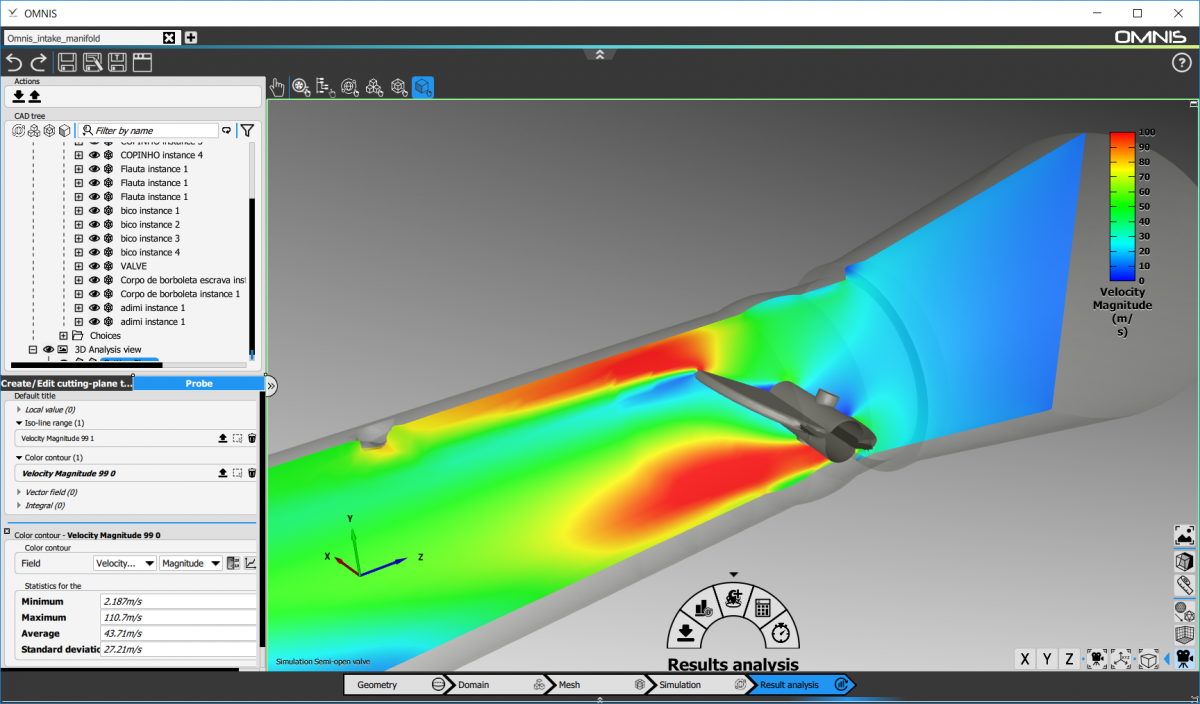 Thanks to the simultaneous solution of momentum and continuity equations, with an implicit block coupling of pressure and velocity variables, the Open-PBS solver yields faster convergence compared to classical, loosely coupled, segregated pressure-based solvers.
This gain in convergence speed is accompanied by an improvement in numerical robustness for regimes ranging from low-speed to transonic and supersonic regimes.
The new technology has proved to be an invaluable resource for simulating the flow in a large number of applications, such as automotive, low-speed aircraft, drones and gliders, piping systems, heat exchangers, fans, hydraulic turbomachinery, …
Conjugate Heat Transfer and thermal management
The segregated formulation of the energy equation and the implicit treatment at the fluid-solid connections, allow the use of specific solving times or relaxation for the solid domains with an improved acceleration of the convergence for applications involving conjugate heat transfer.
Application examples:
• Heat exchanger
• Automotive thermal management
• Cooling systems
• Electric motor
• HVAC
• …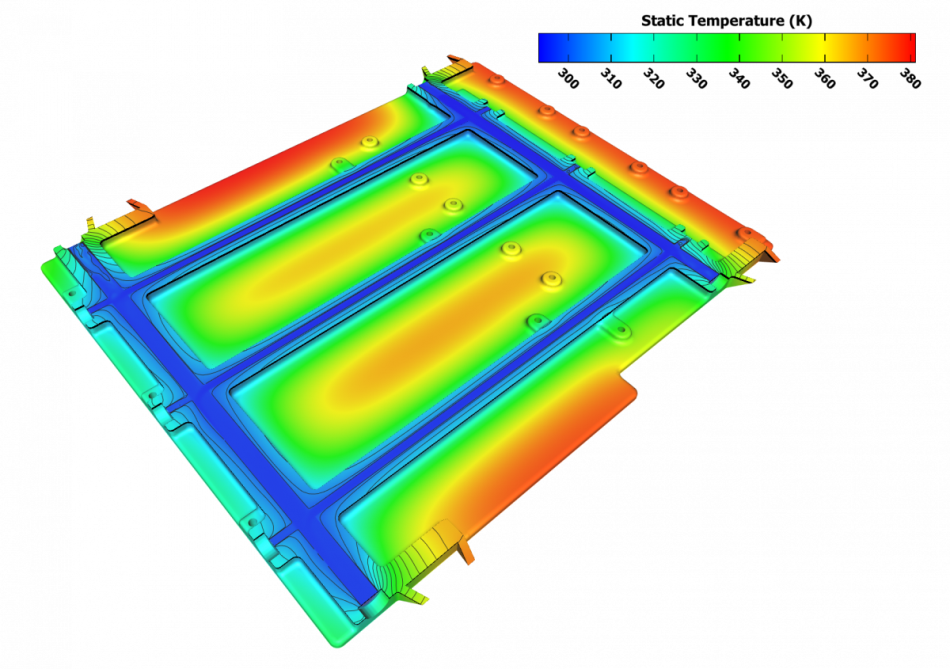 Conjugate Heat Transfer of a water cooling jacket
Low speed rotating machinery
The coupled pressure-based solver is known to be more efficient for low-speed flow, thanks to the fully implicit pressure-velocity coupling algorithms. With multidomain capacities and multiple reference frames, a large range of low speed rotating machinery applications is efficiently solved with the coupled solver.
Application examples:
• Fans
• Thermal turbomachinery
• Hydro turbines
• Pumps
• …
Thanks to its implicit, second-order accuracy time marching algorithms, Omnis-PBS exhibits excellent simulation speed for solving unsteady problems.
It supports multiple functionalities such as buoyancy, heat source terms, heat transfer…

Forced convection cooling of an electronic chip – steady-state computation (1250 RPM)
Omnis™/Hexpress:


• Full Hexahedral Grids
• Direct CAD import capabilities
• CAD manipulation and decomposition tools
• Mesh wizard for rapid solution set-up and easy back and forth operation
• Buffer cell and boundary layer insertion
• Automatic refinement procedures
• Multi domain capabilities allowing the treatment of CHT and multi-part geometry models
• Full non-matching multi-block connection, allowing multi-row turbomachinery meshing
Omnis™/Open-PBS:
• Incompressible flow
• Compressible flow (from subsonic to supersonic)
• Steady and unsteady regimes
• Laminar and turbulent flows
• Multidomain capacity
• Conjugate heat transfer
• Heat source terms
• Fluid/fluid mixing plane
• Multiple reference frame
• Buoyancy
Omnis™/Post:
• Multi-projects and multi-views graphical user interface
• Python scripting technology
• Surface and 3D local value
• Iso-lines
• Color contour
• Vector
• Iso-surfaces
• Cloud of particles
• Line chart
• Integral
• Formula and operator derived quantities
• Live co-processing
Pars Makina From All Perspectives
Eco-Friendly
In all our projects that we carry out, we strive to use renewable energy sources and equally, we prefer to use recyclable materials.
Work Ethics
We add our motivation and ethical values to our continuous development efforts and we realize our projects through an evolving design that take into account feedbacks from numerous simulation and tests.
Safety
We always place safety the first place. We prioritize worker healthin all type of field works, factory production, assembly and tests carried out in our workshop.
Social Responsibility
Through the development of high and ınnovatıve technologies, we fulfil our duty regarding the development of our country and entire world wellness.
Advanced Technology
We always provide world-class engineering and production services with our R & D and production team that follows the technological state-of-the-art in our fields of expertise.
Customer Focused
We ensure customer satisfaction by providing efficient and reliable products that emanate from our responsible and positive-thinking attitude.
Look at Us More Closely
Pars Makina develops novel technological products that results from long term fundamental R&D studies. Our intellectual property contains many recent national and international patents that increase our worldwide competitiveness. For sustained growth of our capabilities and increased market share, we continue to produce state-of-the-art solutions involving high technologies. We also strive to work closely with national and international academic institutions and leading large companies in Turkey and Europe.
Pars Makina
We provide reliable, economical, high-power and efficient innovative solutions in the fields of Transport, Defence, Aerospace, Aerospace Engineering and Clean Energy.