OMNIS™/AUTOGRID (INCL AUTOGRID5™)
Automatic structured meshing that saves time while increasing accuracy
Omnis™/AutoGrid is today's reference in turbomachinery and engine design, offering high-quality full automatic multi-block structured meshing within minutes. With just a few simple clicks via a wizard-based workflow, Omnis/AutoGrid guides users from geometry to mesh for a variety of applications.
Omnis™/Autogrid includes access to AutoGrid5™.
Increased reliability and accuracy of the simulation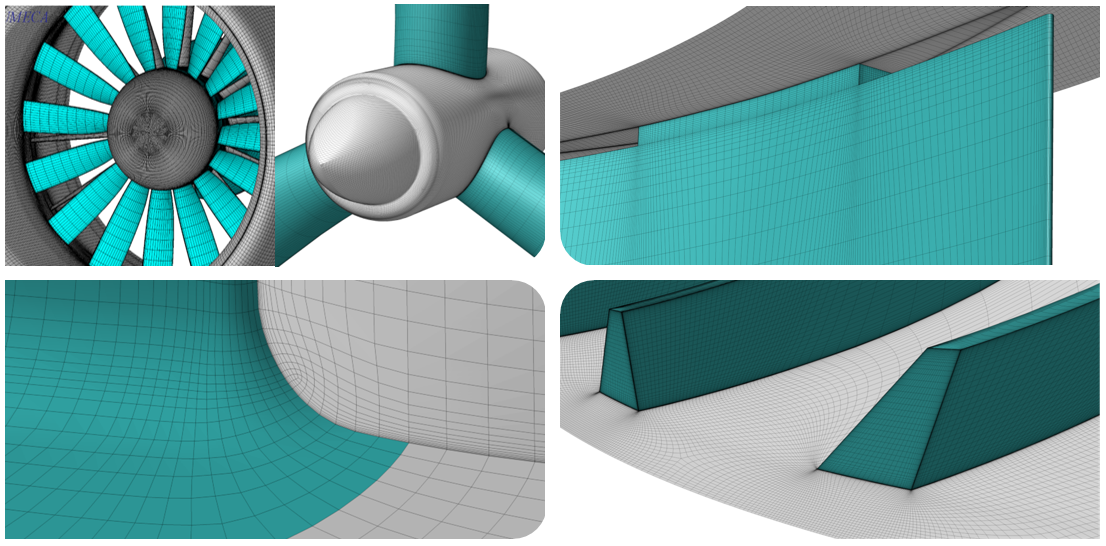 Bulb topologies, partial hub and tip gaps, fillets and blunt leading and trailing edges
Omnis/AutoGrid streamlines the simulation workflow and guarantees the reliability of the results by ensuring a maximum mesh quality with a reduced number of cells, a controlled first cell size, and gridlines aligned with the flow paths.
Bulb topologies, partial hub and tip gaps, fillets, blunt leading & trailing edges, cooling holes, and bleed ports can all be easily meshed.
A wizard for every application
Application-dedicated wizards guide the users to generate high-quality grids in a few minutes, ensuring a large reduction in product development time and effort.
Applications range from centrifugal pumps to turbofans and turbines to all types of propellers, asymmetric end-walls, casing treatment and many more.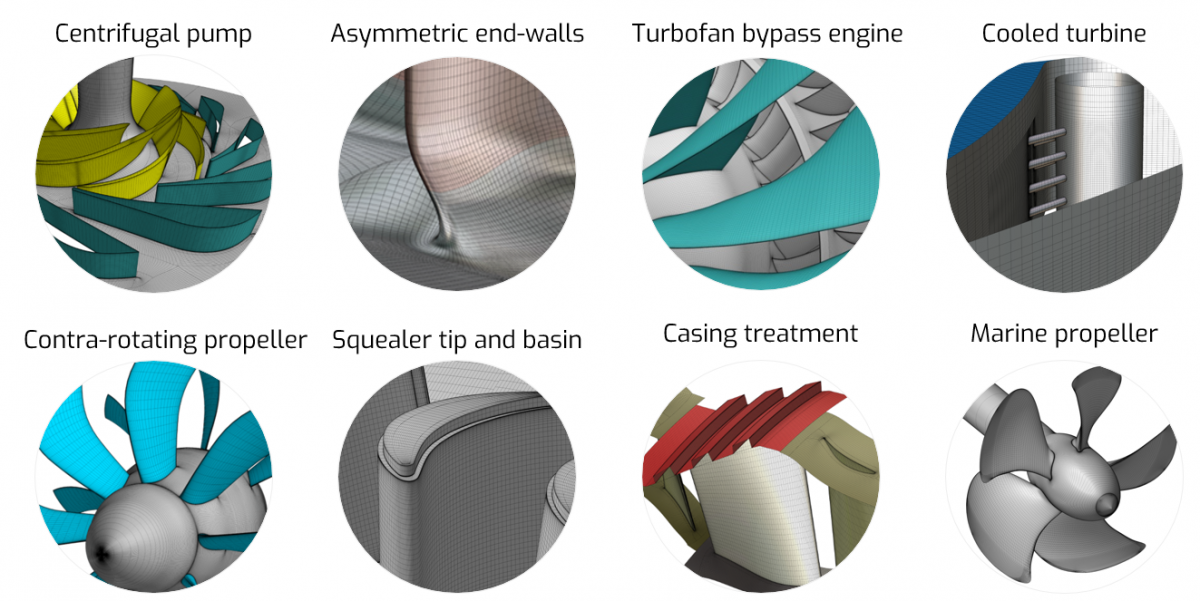 Push the limits of full hex block structured meshing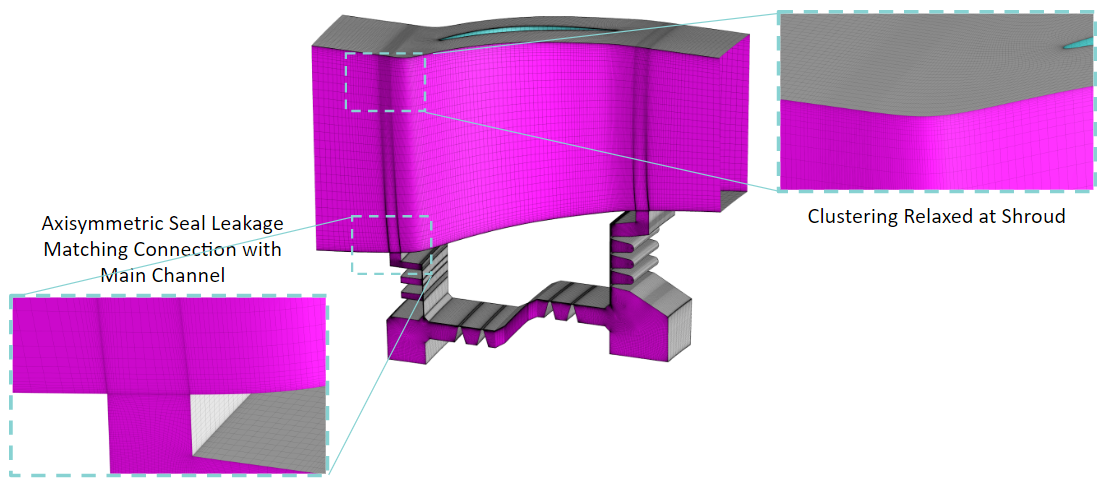 Automatic block-division and high-quality meshing of axisymmetric domains
Omnis/AutoGrid produces high quality grids via state-of-the-art smoothing algorithms.
With special techniques such as ZR effects, Cadence has pushed the limits of applicability of structured meshes.
Users can mesh all axi-symmetric effects such as cavities, ported shrouds, leakage paths, etc…
Automatic far-field mesh generation
The simulation of large machines, such as wind turbines or ship propellers, requires an very large domain, sometimes extended to hundreds of meters downstream and upstream the blades.
Omnis/AutoGrid automatically generates the far-field around a wind turbine with precisely one click, selecting the mesh settings for optimal mesh quality.
If the blade tip is rounded, the mesh blocks are cleverly rearranged to guarantee a reliable representation of the geometry for accurate simulations of helical tip vortices and cavitation.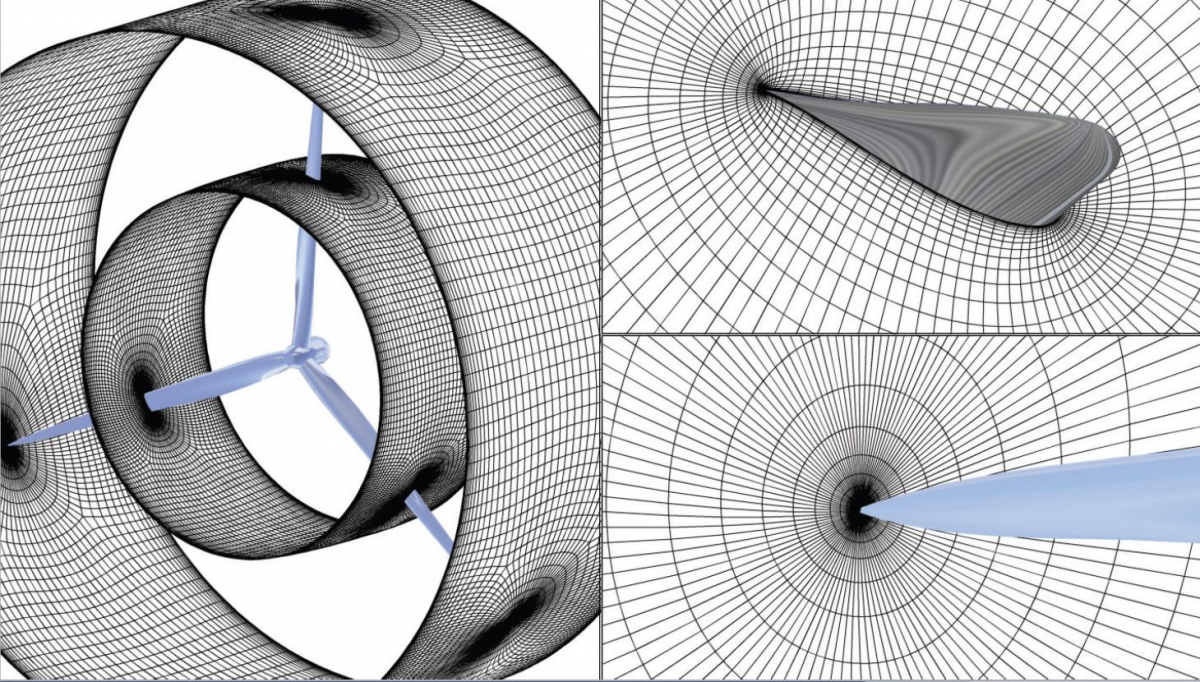 Efficient flow simulation workflows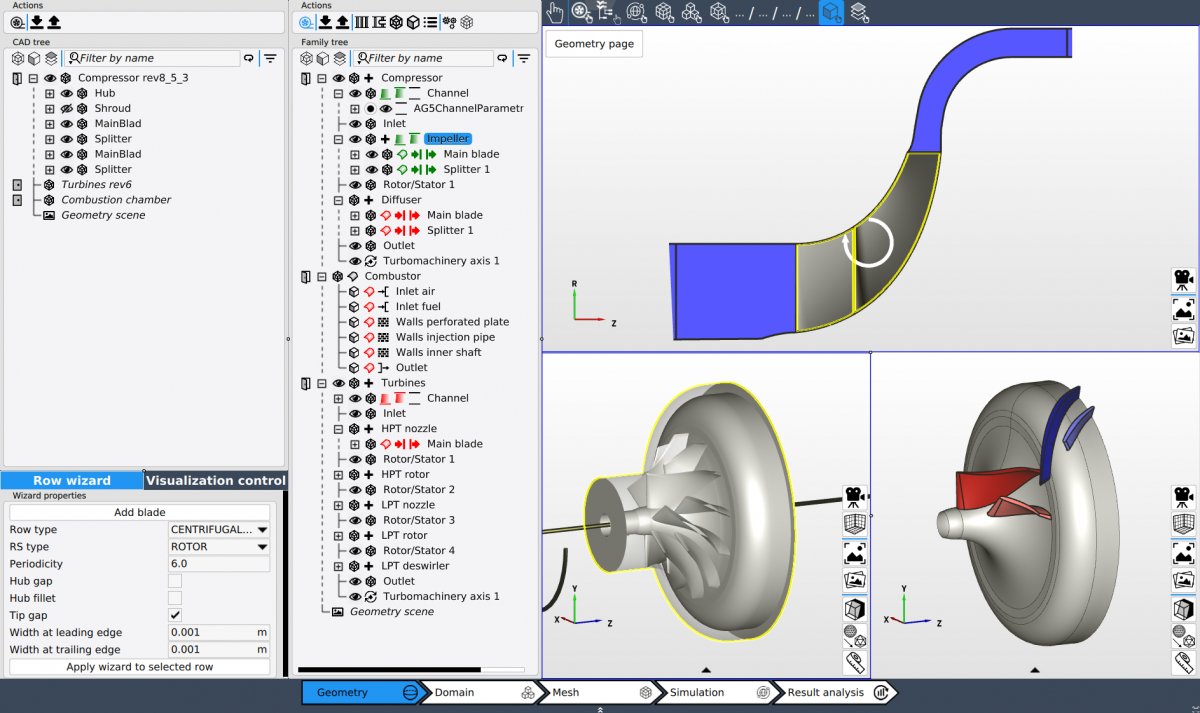 Omnis/AutoGrid is available as a standalone or bundled.
Within our Omnis environment users can easily couple their own flow solver to our meshing technology and take advantage of a highly streamlined workflow.
Complete automation of the workflow from A to Z is made possible with the Python plugin API.
Instantaneous mesh previewing with on-the-fly texture mapping gives a quick preliminary sneak view of the mesh before even starting the grid generation process.
Structured and unstructured seamlessly combined
Within Omnis, mesh generation methods can be combined to benefit from the best of each technology, combining high-fidelity with speed
• The structured automatic, multi-block meshing tool Omnis/AutoGrid for structured meshes offers unsurpassed speed and accuracy for rotating equipment.
• Omnis™/Hexpress provides high-quality unstructured meshing for even the most complex geometries.
Different methods can be used per domain of simulation or at different places of the same object and connected via non matching connections.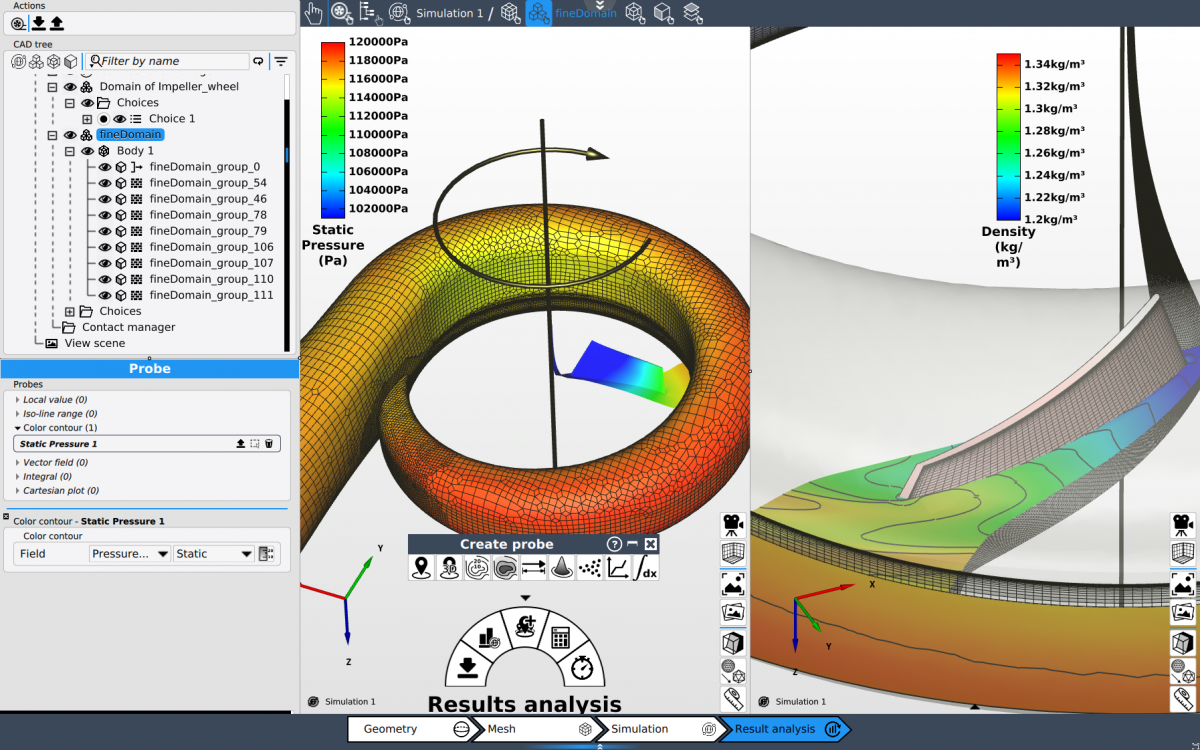 High-speed with automation and parallel shared memory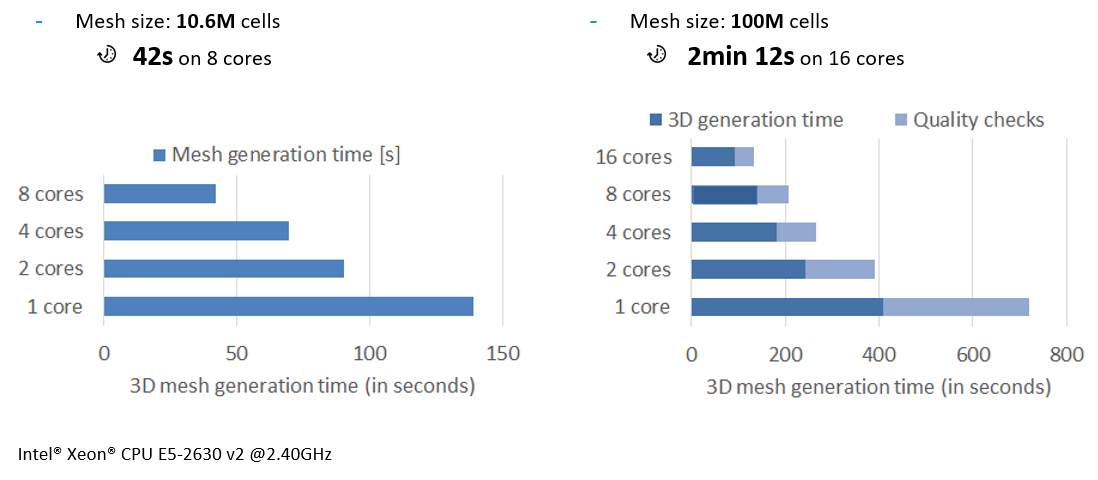 Omnis/AutoGrid offers complete automation from CAD import to post processing.
For the highest-fidelity analysis, where mesh size reaches hundreds of millions of cells, Omnis/AutoGrid operates in parallel, leveraging multi-cores' computing power.
As a result, a 100-million-cell mesh can be produced in about 2 minutes on 16 cores!
Pars Makina From All Perspectives
Eco-Friendly
In all our projects that we carry out, we strive to use renewable energy sources and equally, we prefer to use recyclable materials.
Work Ethics
We add our motivation and ethical values to our continuous development efforts and we realize our projects through an evolving design that take into account feedbacks from numerous simulation and tests.
Safety
We always place safety the first place. We prioritize worker healthin all type of field works, factory production, assembly and tests carried out in our workshop.
Social responsibility
Through the development of high and ınnovatıve technologies, we fulfil our duty regarding the development of our country and entire world wellness.
Advanced Technology
We always provide world-class engineering and production services with our R & D and production team that follows the technological state-of-the-art in our fields of expertise.
Customer focused
We ensure customer satisfaction by providing efficient and reliable products that emanate from our responsible and positive-thinking attitude.
Look at Us More Closely
Pars Makina develops novel technological products that results from long term fundamental R&D studies. Our intellectual property contains many recent national and international patents that increase our worldwide competitiveness. For sustained growth of our capabilities and increased market share, we continue to produce state-of-the-art solutions involving high technologies. We also strive to work closely with national and international academic institutions and leading large companies in Turkey and Europe.
Pars Makina
We provide reliable, economical, high-power and efficient innovative solutions in the fields of Transport, Defence, Aerospace, Aerospace Engineering and Clean Energy.