Pars Makina Ltd. Şti. was founded in 2005 and carries on activities in ODTÜ Ostim Teknokent and in the factory in Ostim.
Our specialties lie in the analysis, design, optimization and production of systems/equipment necessary for solutions of problems aimed at increasing power and efficiency. In doing so, we are spending our efforts in sustainable energy technology with environmentally friendly R&D projects. We also carry out engineering studies and investments associated with wind and solar energy.
In addition, we overcome the most challenging problems with accumulated years of knowledge and experience in rotary systems, turbines and compressors. We continue to answer customer needs and contribute to country's economy while carrying out works with new technologies.
We provide our unique added value assets to the technological developments of R&D projects. We support these works with national and international patents that increase market competitiveness. In order to demonstrate our capabilities, increase our competitiveness and produce innovative and genuine solutions, we continue to work closely with national and international academic institutions and major leading European companies.
Past and Present of Pars Makina Logos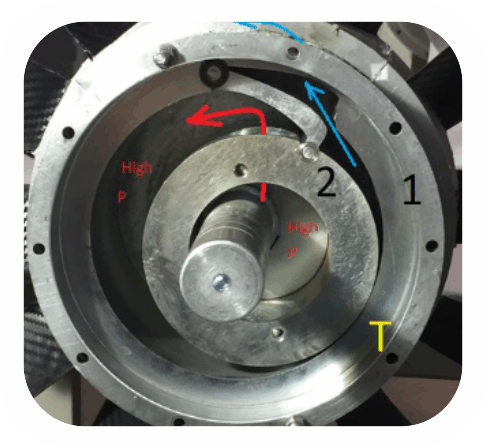 When founding the company we wanted to make sure that our technology would someday be worldwide recognised through our solid engineering background, innovative and creative manufacturing and assembly foresight and strong aftersales product support. We decided to evoke in our logo, Panthera Pardus Tulliana, a now extinct Anatolian leopard. This brave, untamed animal is a genuine native of Anatolia since the Neolithic ages. Its last paw marks have been last spotted on the highlands of Beypazarı near Ankara, in January 17th, 1974. We feel close to Panthera Pardus Tulliana as Pars Makina is also established in Ankara, in March 21st 2005, a day which also marks the vernal (spring) equinox and also marks the rebirth of this legendary Anatolian leopard. After 17 years of existence, 8 international and national patents, 9 European projects and 10 National projects, we believe that our technological paws are now clearly visible to the connoisseur. Time has come to let our leopard climb on to new heights.
Since April 29th 2022, we changed our logo to better reflect the architecture of our patented "push-pull" high torque expander. The outer-rotating arc vane expander is developing high torque at relatively moderate nominal speeds. The high-pressure working fluid is entering the crescent-shaped cavity and "pushing" against the arched vane, generating a clockwise motion. Leaving flow impulse is also "pulling" outer rotor, again in the same clockwise rotational direction as the expanded gas is ejected tangentially from a converging-diverging nozzle. The expander efficiency is high because there is no friction between outer rotating rotor (1) and inner rotating rotor (2). The eccentricity of the second rotor determines the clearance between the two rotors at osculating tangency point "T". This architecture is a leap forward when compared to the well-established internal gear crescent-shape pumps and motors. Why? Simply because in internal gear motors, the pressure is gradually pushing against gears but in our architecture, there is a pressure chamber -formed by the arc vane- to allow the grip of the pressure force to directly translate into torque. Pressure that builts in the cresecent shape working chamber (High P) is the center of power production.